How ClinasystNG Benefited my Clinical Trial Company
Shannon Trull | Vice President of Accounting & Finance at ENCORE Research Group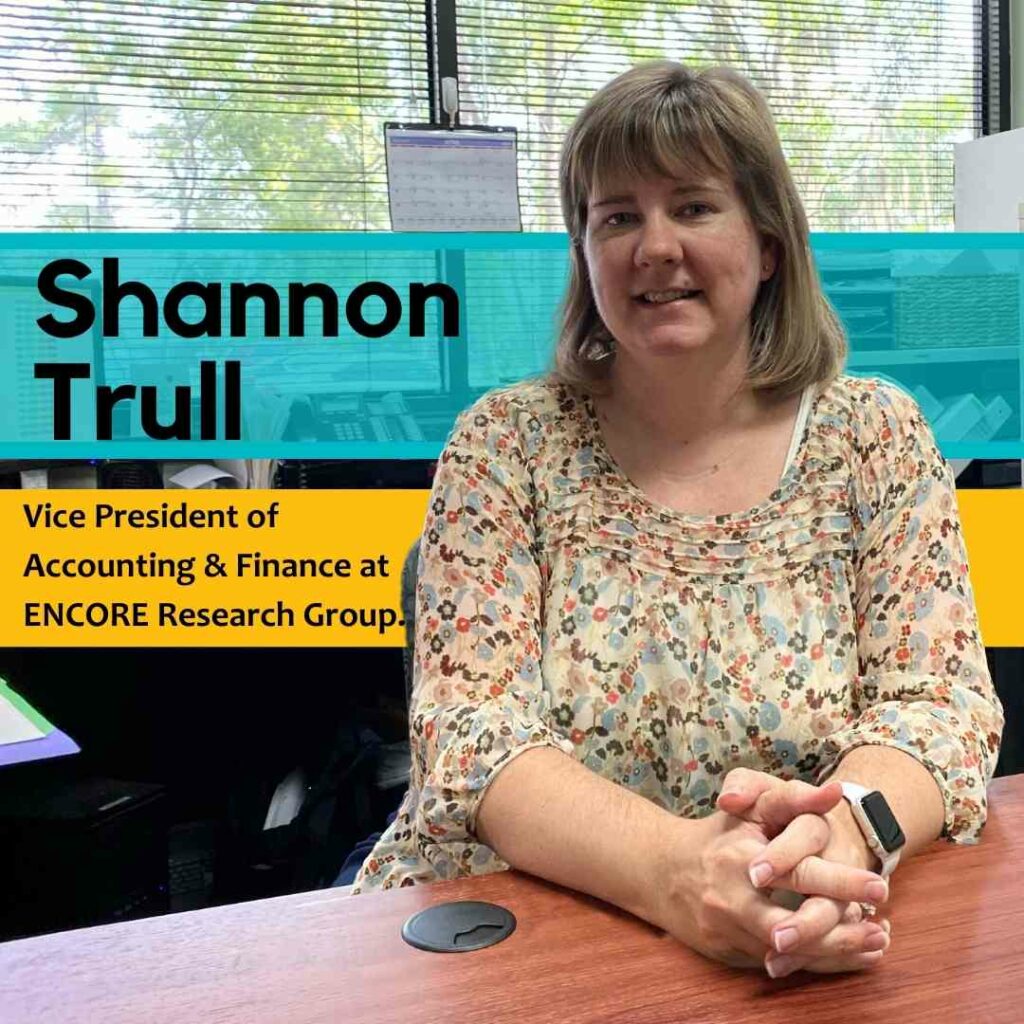 Shannon Trull is the Vice President of Accounting & Finance at ENCORE Research Group. ENCORE Research group is a large clinical trial organization with nine locations in Florida, and Shannon oversees the finances for all locations. 
"I couldn't imagine going back to the days before ClinasystNG," Shannon says as she recalls the many ways ClinasystNG has saved her facility time and money. Furthermore, one of her favorite features is SAE tracking. SAE (Serious Adverse Event) Tracking is a feature of  ClinasystNG where her team can easily track how many SAEs occur in a study while additionally collecting revenue from those SAEs.
Shannon says she loves how user friendly the platform is. For example, she says, "The coordinators can go into ClinasystNG, select when a SAE occurs, capture it and invoice it." Shannon and her team are able to bring in more money for studies, because SAEs are captured in such a timely manner. Without the SAE tracking mechanism ClinasystNG has to offer, they would have to pull all SAEs at the end of a study. This leaves many to fall through the cracks without being invoiced. 
"There are so many more things we can capture now than we could before ClinasystNG."
Additionally, there are other financial aspects of ClinasystNG that have also helped Shannon and her team. For instance, she says, "We are able to enter every single budget aspect into ClinasystNG. Even fees like administrative, pharmacy, re-consent, safety reports, moderating visits, advertising and more. We are able to put it all into ClinasystNG."
ClinasystNG is also able to invoice more than just SAEs in a timely manner. It can also invoice all invoiceable procedures from pregnancy tests and unscheduled visits to lab draws.
"There are so many more things we can capture now than we could before ClinasystNG," Shannon says. "Before, we may have just been able to do an end-of-study pool of data. Now everything is in a timely manner." For example, if your site has a five year study that has just ended, there is no need to pull five years worth of data. Everything has been pulled the moment it happens. 
Lastly, Shannon says there is very little financially that she can't pull from Clinasyst. "It has really turned our process around," Shannon says. "Honestly, we couldn't live without it."
Back to Clinasyst News
Back to Clinasyst Home

Facebook


Twitter


Instagram